In case you missed it, you can find all the past Monthly Mindfulness Newsletters below.
March 2017 – Tips for Mindfully Healing Anxiety
April 2017 – Mindfully Relating to Fear
May 2017 – Does trying to control your emotions work?
June 2017 – Mindful Self-Compassion for Life's Difficulties
July 2017 – Mindfully Managing Life's Change and Transitions
August 2017 – Taking a Vacation from your Anxious Mind
September 2017 – The Problem with Problem Solving (Your Emotions)
October 2017 – 5 Ways Mindfulness can Improve your Relationships
November 2017 – Why It Can be So Damn Hard to be Kind to Ourselves
December 2017 – Becoming a more loving person
January 2018 – New Year's Directions (not resolutions)
February 2018 – 6 Ways to Love Mindfully
March 2018 – How Can I be Kind to Myself?
April 2018 – Mindfully Feeling like Sh*t
May 2018 – Setting Boundaries with Love
June 2018 – Can Spirituality Heal Anxiety?
July 2018 – How Self-Compassion Heals Anxiety
August 2018 – Healing Anxiety with MAGIC
September 2018 – Making Friends with our Anxiety and Fear
October 2018 – What is the Opposite of Fear and Anxiety? 5 Qualities of Love
November 2018 – [Free Audio] What is Mindfulness? 4 Components of SOAP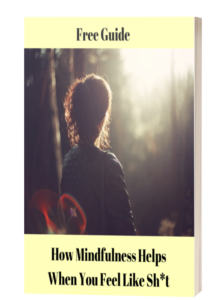 Want a Free Newsletter every month?
Subscribe to my Free Mindfulness Tips Newsletter and receive your Free Guide:
How Mindfulness Helps When You Feel Like Sh*t.
Enter your email below: