Dating in the Bay Area isn't easy.
If you're single and looking to meet someone in the Bay Area, you know that finding the right partner can feel awkward and be a challenge.
On the one hand, you enjoy living the single life, staying in watching Netflix whenever you want.  On the other, you are tired of being single you know that finding a relationship that you love would feel great.


Dating in this digital day and age has it's own unique challenges:
An endless number of dating apps to choose from, endless potential partners, and uncertainty of what these people are really like in real life.
Fears of getting close to someone new when you have had difficult past relationships.
Anxiety about putting yourself out there online or just showing up for the first date.
Not feeling attracted to any of the people you meet.
Worry that your next partner will turn out to be a jerk, just like the last one.
Getting ghosted or endlessly swiping the night away.
Long work hours and feeling too busy to really date.
Awkward first dates, the dates feel forced, and both of you are sitting there wondering the same thing: "when can we end this date??"
With all these challenges, you may be feeling hopeless and defeated about ever meeting the right person.
What you really want is to find a genuine, authentic connection.
A connection where there is attraction, humor, excitement, honesty, care, and trust.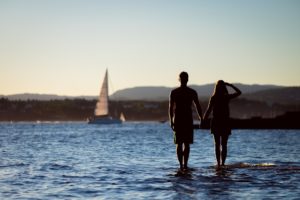 In this mindfulness-based workshop, psychologist and relationship expert Dr. Ellis Edmunds will help you identify the barriers that stop you from finding the relationship you desire and provide you with the tools you need to put yourself out there authentically and openly.


By the end of this workshop you will:
Identify your fears and struggles in dating so they no longer hold you back.
Clarify what really matters to you in a partner so you can attract the partner you really want.
Understand your attachment style so you can create healthier relationships.
Examine your unhelpful patterns in relationships so you can learn how to break them.
Know your true values when it comes to dating and relationships so you know what to look for.
Take action on your values and create a plan for values-based dating.
Practice mindfulness so that you can let go of unhelpful fears that get in the way.
Dr. Edmunds will lead experiential exercises to look at the dating fears and negative self-talk that get in the way of being your best self. We'll explore what truly matters for you in relationships so that you can enjoy the journey of dating, rather than worrying about a particular outcome.
Next Workshop: Saturday December 14th, 10am – 1pm
Location: Rockridge, Oakland
Limited seating.  All genders and sexual expressions welcome.
$70 (+tax) for a 3 hour workshop (sliding scale available)
Get your ticket today!